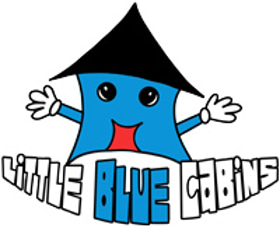 Bancroft Times Article
Wonderful Article by Chris Drost
NEWS
Thank You Bancroft Times!
LBC would like to thank the Bancroft Times and Chris Drost for the fantastic article they wrote about Little Blue Cabins. It was published in the February 15 edition of the Bancroft Times, and they were gracious to allow us to republish it here.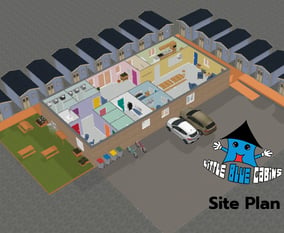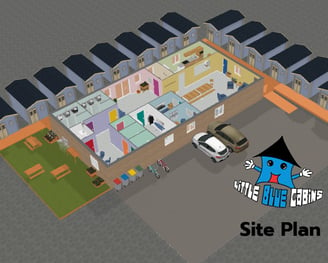 Little Blue Cabins transitional housing proposal seeking your help
By Chris Drost
For the past two years, local resident, Kevin Taylor, has been working on a proposal that would bring transitional housing to North Hastings. With a great deal of the preliminary planning in place, Taylor is ready to share the proposal widely to seek much needed community support.
The Little Blue Cabins proposal includes plans to build 20 accessible eight by 12' cabins with a connected accessible community space which would house the washrooms, laundry, kitchen, living area, computer/training room and two meeting spaces.
"I have been in contact fairly regularly [with Taylor]. Housing, mental health and addictions are huge issues right across Canada. We can't keep doing what we have been doing – we need a new approach, and the Little Blue Cabins concept should be looked at very seriously. The Town thanks Kevin for the tremendous and thoughtful amount of work he has put into this. Doing nothing is not an option," says Mayor Paul Jenkins.
The underlying principle behind LBC as explained on the https://littlebluecabins.ca website, is "to walk alongside the unhoused in Bancroft and surrounding municipalities towards a safe/warm housing and a fresh start in life." LBC is about building small living spaces, but it is also much more than that. It is about ensuring that the people who live there receive wrap-around individualized care, including access to trained medical and social service professionals, access to training for future employment, and an opportunity to become part of an inclusive community.
Taylor is currently trying to access funds to incorporate LBC. "We need about $1,400 and also someone who can help us with the paperwork," explains Taylor.
At this stage in the process, the critical next step is to secure a location for the LBC project. "We need approximately one acre at least, hopefully on the edge of town. We cannot complete all our budgeting without knowing that location. As soon as the land is available, this project will be considered a 'go'," says Taylor. He is currently in talks with one organization but is actively seeking anyone else who may be able to assist. The arrangement would be a long-term lease on the property, ideally ten years. They are not looking to own it.
"People want a plan that has the potential for success," says Taylor. He has been working diligently to think of everything that needs to be included in the plan, from the physical building stage to ensuring a strong governance model and ongoing supports for the individuals who will eventually occupy the little blue cabins. He has reached out to countless projects across North American to learn what works, and what does not.
LBC will operate with two advisory committees. The Housed Advisory Committee will change processes, and access research and resources and will reach out to the broader community, while the Unhoused Advisory Committee will gather ideas from the people LBC supports. It will allow for discussions about possible solutions and will enable those people with lived experience to participate in and advocate for, those solutions
A community director will be responsible for determining the direction, goals and overall strategy of LBC, and overseeing and directing LBC's day to day activities. In the first year, Taylor will take on this role as an unpaid volunteer, but the role is expected to transition to a paid position that will be filled through a transparent, competitive, and public hiring process.
Care coordinators will be responsible for ensuring the wellness and care for the residents. They will coordinate the various services and agencies and much of the day-to-day oversight of the cabin community. These will be paid positions.
There will also be a volunteer coordinator who will assist the residents and care coordinators in arranging such things as workshops, activities etc.
Community volunteers will also be needed to carry out such activities such as special meal provision, informal life skills education (such as cooking, laundry, budgeting, meal planning), helping fill education gaps, skills training (music, knitting, carpentry, sewing), and special entertainment such as movie screenings, musical performances etc.
The small cabins will each have two windows and very basic furniture, including a bed, linens, small table, linens, and a wardrobe. There will be keyless entry, a miniature fridge, microwave, propane heat, a fire extinguisher and smoke and carbon monoxide detector. Each cabin will be connected by an accessible deck to the communal building where all the washrooms, laundry, kitchen and other facilities will be located.
"I don't see the little blue cabins as a permanent solution for people. It may be a two-year thing, but we don't want to put a time frame on it. Once residents have had the support while at LBC, they can hopefully move on to independent living," explains Taylor.
Once Taylor has the location pinned down, the work on the draft budget will be completed.
"It would be great if people would check out the website to see if there is any way they can help at any stage of the project," says Taylor. That could be anything from the donation of materials or labour for the building stage, to furniture, appliances, lighting and smoke detectors etc., to conducting life skills workshops for residents once things are up and running.
If you can offer any assistance, contact Taylor at littlebluecabins@gmail.com or 613-334-0409.
Photo – This conceptual drawing shows the proposed 20 little blue cabins adjacent to a communal building which will include washroom, laundry, kitchen, living space and meeting rooms. Little Blue Cabins is a new proposal for a transitional housing project in North Hastings. Photo courtesy of the Little Blue Cabins website https://littlebluecabins.ca