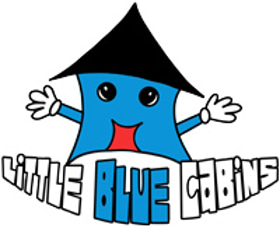 Operational Plan
The physical environment of LBC's cabin community is important to help residents, staff and the local community feel safe. In keeping with trauma informed principles,
LBC will strive to:
Keep common areas, bathrooms, and doorways well lit;

Ensure people are not allowed to smoke, loiter, or congregate outside doorways;

Monitor who is engaging with the cabin community;

Ensure LBC staff are onsite 24/7;

Ensure people with mobility challenges can engage in all areas of the cabin community;

Keep noise levels in common areas low;

Use welcoming language on all signage; and

Make sure residents have clear access to the door in common areas, and can easily exit if desired.

Location
Location-location, this is the greatest hurdle to any cabin community throughout North America. Research from many other communities indicate that a location outside of the downtown core is more beneficial to the residents of the community, providing some transportation to and from town can be arranged a couple of times per day. LBC hopes that many service providers, social workers, and counsellors will choose to come to the site and utilize the two meeting rooms allocated. Some residents will need to receive medical treatments and other appointments. A transportation agreement with Bancroft Community Transit will need to be established.
When a location is determined, the rest of the budgeting and planning for this proposal can be calculated and presented in the next revision of this document. A local organization has been approached to consider a 'land-use' agreement for a period of 10 years. This too is crucial, as many tiny villages have to be built to be moveable, as commitment to land use for any length of time is difficult to establish. The project needs time, the residents need time and the housing crisis is far from over.
Wherever the location is, land clearing and infrastructure will be required; water, septic, electricity, propane, roadway and parking. Costs for this cannont be deterimined until a location is established.
Site Layout
The entire cabin community is designed to be wheelchair/walker accessible, by use of a deck structure that connects all the cabins to the community building. One ramp will be required from the parking lot to the deck, which leads to all the buildings. The deck will eliminate the need for separate ramps and also help with snow removal, etc.
Through research of other communities, a Community Building is optimal (many villages built without, wish they had of built this building). Other villages find this model to work well in creating and maintaining the community. This building will house a kitchen, showers, washrooms, laundry, maintenance room, lounge, dining area, office, computer room and two meeting rooms. There will also be an outdoor bbq/picnic area. This model allows for a central location for plumbing, propane, electricity and septic.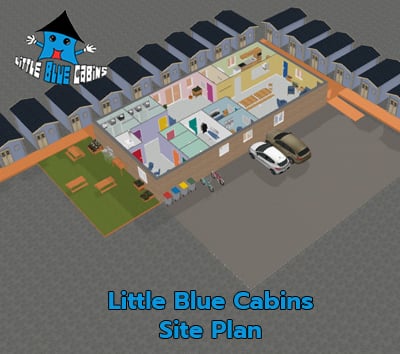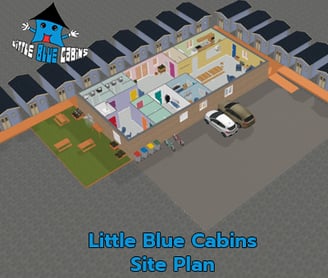 The Cabins
The cabins are designed to be 8'x16', well insulated and locally built. LBC would like to involve local builders, volunteers and students to take part in the construction of the 20 cabins. Each cabin will be alike and include a bed w/storage, a wardrobe, a mini fridge and a microwave.
To accommodate mobility devices, the cabin doors will be 36 inches wide and doorway thresholds level to the deck which leads to the Community Building. Two (size) windows will allow for fire egress and natural light. Each cabin will be equipped with a 20 amp circuit, 4 20 amp receptacles, an internal light, external light, tamper proof smoke and carbon monoxide detector, air exchanger, propane heater, circuit breaker and fire extinguisher.
LBC will consult with occupational therapists to furnish each cabin in accordance with the accessibilty needs. This may include efforts like installing custom sleeping platforms at an accessible height to enable safe and easy transfers between bed and mobility devices, and installing fixed assistive devices within the cabin.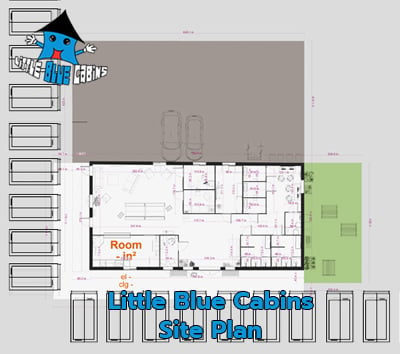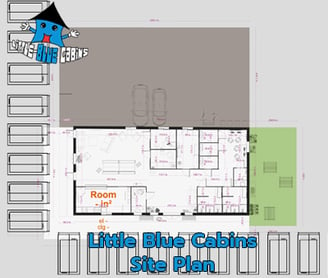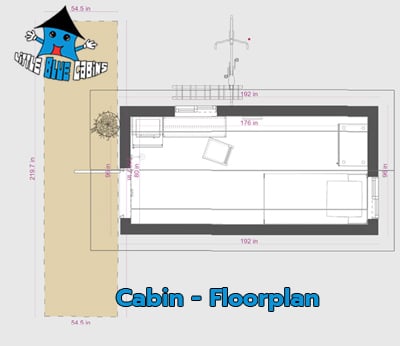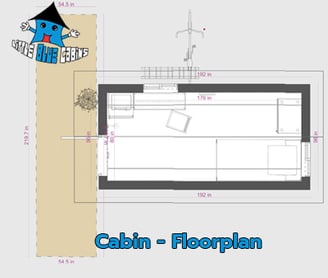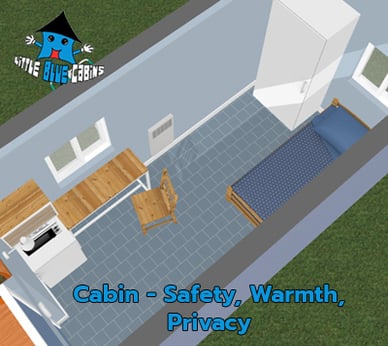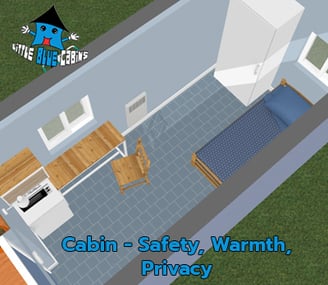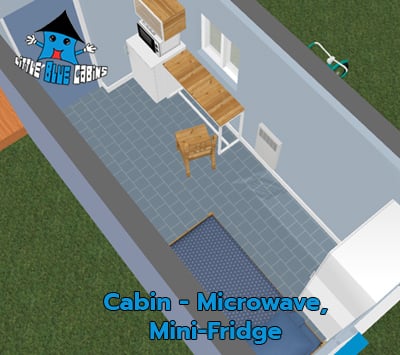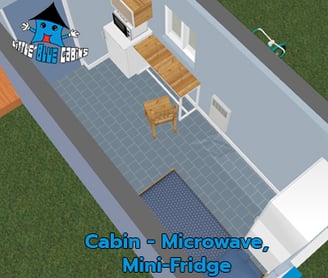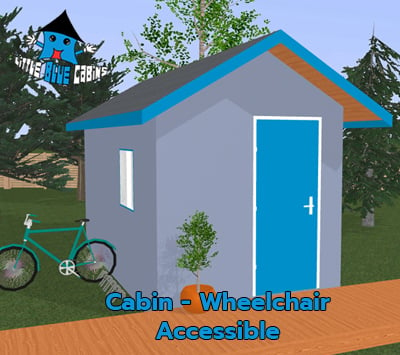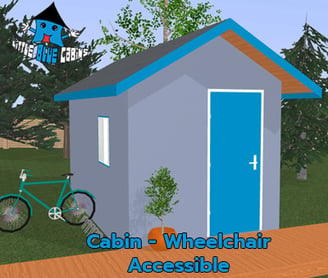 Community Building
The Community Building is the 'hub' where the residents can be part of a community that works together to benefit each other. This building is crucial to being able to 'walk alongside' those affected by poverty or homelessness. The community building will be where support services can be given to each resident as they choose to engage.
The Community Building will include:
3 separate washrooms (design could be reduced to 2)

showers (diagram shows 2 sets of 3 communal, but will be changed to reflect 3 totally private showers)

A fully operational kitchen with fridge, freezer, stove, dishwasher, microwave and sink

Laundry room with 2 washers & dryers, ironing board, etc.

Lounge with TV, couches, chairs, small tables, books, etc

Dining area large enough for all 20 residents to eat together 2 private meeting/quiet rooms

Computer/Internet room

Staff office

Maintenance room with propane furnace, water heaters, electrical panels, etc.

Outdoor bbq/picnic area
The indoor common areas will only be accessible by the cabin community residents, LBC staff, registered service provider representatives, and registered volunteers. Cabin community residents will be encouraged to design and decorate the common space to make it feel comfortable, and will be given frequent opportunities to suggest improvements to common areas.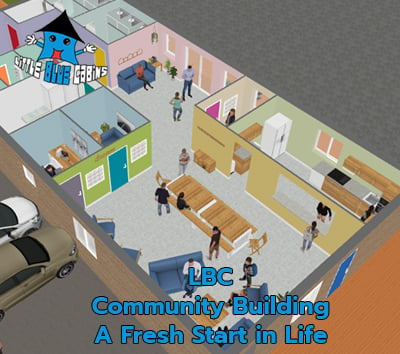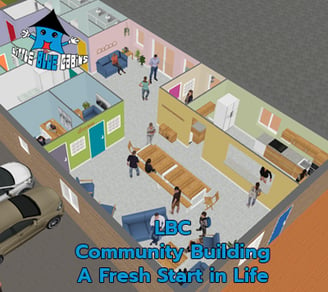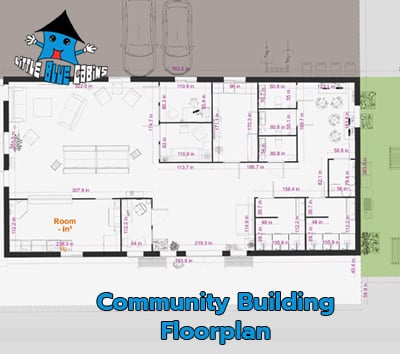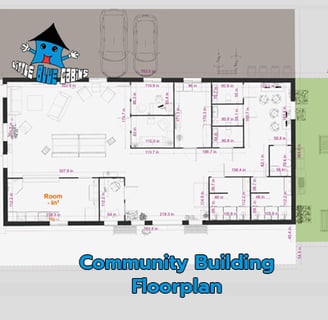 Security
The security of any sleeping cabin community is a nuanced situation. The goal is to provide just enough security for the residents and any surrounding community members to feel safe. LBC embraces a model of inclusion and rejects any portrayal that residents need to be kept away from the public, or that the public needs to be protected from residents.
LBC has deemed through research that fencing in the community is beneficial and helps to manage visitors to the site. Through discussions with the Advisary Councils, LBC will establish policies on how many visitors, what length of stay and times of day would be best for the community as a whole. Other villages have installed keypad entrance gates, however we feel that just fencing the areas not attached to the parking lot will provide the village with adaquate governance of visitation policies. The fancing may not even be required depending on location of the Community.
Little Blue Cabins will foster relationships with various agencies that may be involved in any safety or emergency situation, so LBC can have an effective, cohesive approach for residents, and that agencies can be involved as/when appropriate. This would include as many as possible of the following:
Ontario Provincial Police

Bancroft & Area Townships Fire & Rescue

By Law Enforcement/Management

Local Community groups

Local Community COUNCILS

Local Housed Residents

LBC Staff Trained in Conflict Resolution
LBC will have a staff member or trained volunteer onsite 24/7 to address any security issues and have a public LBC community phone number available.
Fire / Emergency Plan
LBC will work closely with local Fire Departments to ensure all safety concerns are addressed during the construction of the village. Each cabin will be equiped with a tamper proof smoke and carbon monoxide detector and a small fire extinguisher. On a monthly basis, the Bancroft Fire Department will be invited to the cabin community to provide educational information and ensure the cabin community remains safe for residents and first responders.
In case of an emergency, LBC will direct residents to a muster point designated outside of the Community Building.
All residents, LBC staff and key LBC volunteers will receive an emergency response briefing when they first access the cabin community.
The briefing will include:
Review of LBC's Emergency Action Plan

Visual sighting of Emergency Exits

Location of First Aid Kit

Location of Fire Extinguishers and Fire Alarms

Emergency Contact information
At all times, LBC will operate within Occupational Health and Safety Act, R.S.O. 1990, c. O.1 requirements.
Communicable Diseases
LBC will follow all guidance issued by Public Health Ontario's Infection Prevention and Control (IPAC) team and the Ministry of Health and Long Term care in regards to wearing masks inside and maintaining social distancing should future outbreaks of the COVID-19 pandemic occur that require these measures. Volunteers and staff will help residents self-monitor for symptoms, and secure testing from Public Health or primary health care providers as and if required.
The natural separation of the sleeping cabins means that residents could isolate much more easily than in existing congregate living situations, as does having multiple toilet and shower areas within the LBC Community Building.
A supply of PPE and cleaning products will be kept on site to enable rapid deployment as soon as necessary. This will include (but is not limited to):
Gloves

Goggles and Visors

Masks

Specialty cleaning products for especially thorough cleaning/sanitizing during higher-risk times

Items directed by the IPAC team.
Solid Waste
LBC will participate in the existing waste collection systems in place for the township that it will be located. Residents and site staff or volunteers will be responsible for appropriate sorting and bundling of solid waste and recyclables produced within the cabin community. Residents, care coordinators and volunteers will ensure there is no waste build up around the cabin community, and residents will be encouraged to only store their belongings inside their cabin.
LBC will have garbage, recycling, safe-disposal, and composting bins at the rear of the building, near the parking lot. Many garbage and recycling containers will be located throughout the Community Building and each cabin will have a waste bin. Several other waste bins will be located throughout the village, that will be emptied at the same time as the Community Building ones. Removal of the waste will need to be coordinated, on a regular basis with volunteers for delivery to the appropriate landfill site.
LBC will also ensure that proper disposal bins are available on site for needle debris, and removed for proper disposal when appropriate.
Sewage
LBC will need to install a septic system large enough for 25 people to use on a regular basis. Maintenance and removal of sewage will need to be budgeted into recurring costs, unless an in-kind donation can be established.
Water Supply
LBC recognizes that wherever the village is located, it will require water. Contractors will be asked to provide quotes for a water well. A holding tank will probably not work with so many residents.