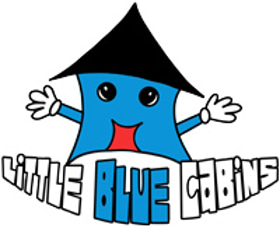 Programming
LBC will strive to provide a social-emotional environment at the cabin community within which residents will feel respected and supported. LBC embraces the Indigenous model of WELLNESS which equalizes mental, emotional, physical and spiritual needs.
Communication to the unhoused community about the Little Blue Cabins community is of utmost importance, helping people without homes understand who LBC is supporting and why, and ensuring people understand efforts needed to achieve successful outcomes.
Ideal Resident Characteristics
People currently experiencing homelessness will be given preference in the selection of residents for this community. LBC believes it is best suited to those with mobility challenges and those who wish to live alongside and support residents.
People with mobility challenges, who need assistive mobility devices

People with health conditions who are put at extra risk in winter (COPD, neuropathy, previous amputations etc)

People with health conditions who would benefit from enhanced bathroom access, such as those who experience urinary urgency or incontinence.

People experiencing 'chronic homelessness'

People who struggle to feel safe or share space in congregate living situations like traditional emergency shelters (which Bancroft doesn't have)

People who would benefit from having additional advocacy and support to be able to effectively engage and work with service providers

Additionally, LBC believes there will be at least 3 community residents that will live in what we would call 'support cabins'. Every village includes these wonderful support people:
People who have demonstrable skills in maintenance and cleanliness

People who have demonstrable skills in caring for others

People who have demonstrable skills in supporting a community

Selection of Residents
Little Blue Cabins will have a small committee tasked with selecting residents and evaluating suitability for people who would like to participate and live in the cabin community. This selection committee will consider people who self-refer and/or self-identify to LBC for inclusion.
Many unhoused people in our community are identifiable by their participation in local encampments. In the Bancroft area there are over 20 occupants of these encampments. Others are living couch to couch.Some candidates will have already been approached by service providers to gauge interest and acquire consent to communicate with LBC for referral. The candidates would then be approached by LBC to discuss the cabin community and whether it is an initiative that person thinks is appropriate. If the candidate wishes to take part in this project, and agrees to the expectations set, an intake process will commence.
Intake
An LBC Care Coordinator will welcome each resident, provide introductions to residents, staff and volunteers of the community, give a tour of the physical space, and ensure immediate needs are addressed. The resident's cabin will be prepared with basic necessities and the resident will be encouraged to work with Care Coordinators and volunteers to personalize their cabin. Residents will sign a Participation Agreement and complete a Resident Intake Form. Only critical personal information will be collected to confirm identity and establish how the resident would like to be addressed. If willing, consent to communicate with agencies already providing services to the resident will also be signed. All information collected will be treated as confidential information, and will be subjected to the same security requirements and access restrictions as health records. Specifically, LBC will conform to the Personal Information Protection and Electronic Documents Act ( PIPEDA ), and the Personal Health Information Protection Act (PHIPA).
Participation Agreement
While cabin establishments and transition housing projects are exempted from the Residential Tenancies Act, 2006, S.O. 2006, c. 17 (RTA), LBC's will be the resident's only home while staying in the cabin community. This will enable them to have an address, which is required to receive Social Assistance. LBC firmly believes it is important to ensure that vulnerable individuals who reside at the cabin community have appropriate protections and access to due process. Instead of a lease, LBC will enter into a Participation Agreement with residents which includes:
Disclosure of RTA exempt status;

Notification of maximum duration of stay;

List of services offered; Expectations of residents;

Process to resolve resident disputes and/or complaints or address breaches of program rules;

Clearly outlined process for terminating participation/residence, including notice periods and timelines to remedy breaches of program rules that may lead to early termination;

Exit/Transition Plan: LBC's duty to make reasonable attempts to ensure that appropriate alternative accommodation (e.g., shelter, longer-term housing, other program) is made available to the resident if the tenancy is terminated either before or at the end of the agreed-upon term (may not apply where the participant is seriously impairing safety of others); and

Re-entry Policy: ability of the resident to apply for readmission to the community if they are evicted before the completion of the advancement to permanent housing and if the resident can demonstrate that they have remedied the wrong that led to the eviction.

Self-Care Plan
Within 24 hours of joining the cabin community, residents will begin work with a Care Coordinator to complete a Self-Care Plan which should include:
Situations the resident finds stressful

Behaviours which indicate the resident is stressed or overwhelmed

Responses which are helpful when the resident is stressed or overwhelmed

Responses which are not helpful when the resident is stressed or overwhelmed

People to go to for support
The resident will be informed that the Self-Care Plan will be reviewed by staff and if necessary, key volunteers.
LBC will:
Provide a copy of the Self-Care Plan to the resident

Maintain a record of who has reviewed the Self-Care Plan

Conduct monthly, or more frequent, meetings with the resident to review and update the Self-Care Plan

Care Conference
The Care Coordinator will open contact with the extant service providers, and schedule a care conference for and with each resident. If a resident is not yet connected with service providers, the Care Coordinator will make appropriate referrals, with the consent of the resident. The goal of the care conference will be to ensure that the resident is connected to services they need, and are able to engage appropriately with providers, caseworkers etc. Additional needs and challenges can be identified this way, and it provides opportunity for care providers to develop personalized, flexible ways to meet the needs of the resident.
Length of Stay
Moving to a stable sleeping environment can be difficult for some people to transition, it may take days or weeks to start feeling comfortable. Residents will be offered a cabin to stay in as long as they need it, with the understanding that the sleeping cabin community is intended to be a stepping stone toward permenant housing. Length of stay will be determined:
When a cabin resident attains permanent housing;

When the resident decides they no longer wish to stay in the community; or

When the resident's behaviour is deemed too dangerous or disruptive for other community members

Expectations
Residents will be asked to determine what expectations will be as a community, including what kinds of behaviours they are willing to support and/or tolerate. Residents will also be asked to brainstorm effective, fair ways to resolve disagreements as well as making decisions as a group. Little Blue Cabins will provide facilitators for this process as and if required/desired.
To help support residents, LBC staff and volunteers will:
Maintain healthy interpersonal boundaries and manage conflict appropriately;

Keep consistent schedules and procedures;

Offer sufficient notice and preparation when changes are necessary;

Maintain communication that is consistent, open, respectful, and compassionate;

Be aware of how an individual's culture affects how they perceive trauma, safety, and privacy.

Regular Maintenance
LBC will have available the necessary tools to perform basic cleaning and groundskeeping work, such as toilet brushes, mops, snow shovels, anti-ice products etc, so as to empower residents to contribute positively to the surroundings. LBC residents will be encouraged to leave all common areas the way they were found or cleaner.
Basic repairs and maintenance will be largely the responsibility of the community's residents. Larger repairs or significant changes would have to be managed in collaboration with LBC's staff as the need arises.
Daily Life
Staff, volunteers and fellow residents will be available to support residents with instrumental activities of daily living (IADLs), such as meal planning and preparation, housekeeping, personal care etc. Service providers, community partners and volunteers would be on site most days to provide support and fulfilling engagement. Engagement activities can be arranged according to residents' desire.
LBC knows from published research that boredom can be a major problem for people transitioning from homelessness. With this in mind, residents will be encouraged to fill time in meaningful, productive ways. LBC will endeavour to provide the tools, supports and resources to enable this including (but not limited to):
Computers with access to the Internet – Training to be provided

Having board games, books and magazines available on site

TV for group viewings of movies and special presentations

Having art and journaling supplies available on site

Individual or group interactions with community groups and volunteers/visitors